So much for my November fishing report. With a week and a half of vacation the first of the month and relatives visiting thru Thanksgiving week, the month of November just simply got away from me. So I'll just get started with our striper fishing for the first part of December. Lake Texoma lake level is 616.61 witch is 1.27 ft low. The water is off color and water temp is 49-51 degrees.The seagulls have moved in by the thousands and can help you find the good schools of stripers, but they can also fool you.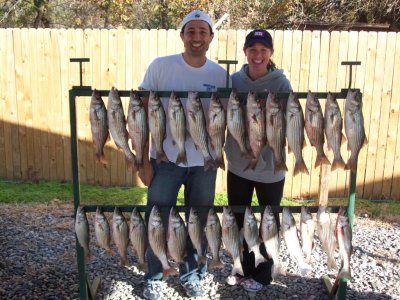 Right now there's as much bait in the lake as I"ve ever seen and sometimes that's all that may be under the seagulls. The Lake Texoma threadfin population, in my opinion, is back to where they should be, not to mention that the majority of stripers that I have cleaned are full of the 2-3 inch threadfin shad.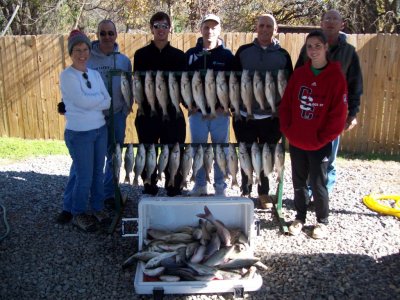 As far as a consistent pattern there really hasn't been one for me. I'm definitely looking for the working seagulls but when they're not working I have covered water from Highport north to Washita and as far west the Shepard Annex. A lot of our stripers are staged in the main river channel so I've fished mainly deep water ledges 45-60 ft of water. I have also fished the backs of some of the creeks and have had some really good days when they are in there. I haven't caught any trophies at this time but they are really good 17-24 inch fish with good thick fillets on them. As I've mentioned in several of my fishing reports this year our seasonal patterns have been 4-6 weeks off.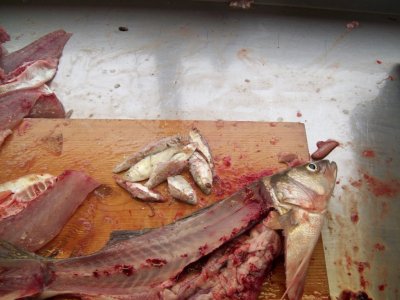 If you can handle the cooler weather the cold fronts blowing thru have made for better striper fishing. I've moved my trips back to 8-9am to let the sun get up a little and once you get to your spot and set up its really not that bad. So dust off your winter gear and give our winter Lake Texoma striper fishing a shot and you could go home with a real Lake Texoma trophy.
Catch fish like a PRO
with
STRIPERMASTER
~~~~~~~~~~~~~~~~~~~~~~~~~~~~~~~~~~~~~~~~~