Three or four times a year The American Legion on Lake Texoma invites patients at the Bonham Veterans Administration Hospital out to the Post for a day of games and a Fish Fry. The American Legion is blessed to have a couple of Lake Texoma Striper Guides who are always willing to volunteer their time and effort to help catch fish to feed the vets and today was my lucky day to get to help the cause.
Doug Keeter the Owner/Operator of StriperMaster Guide Service, invited me, my wife and a couple of our friends to go out yesterday morning to start the harvest for the vets next visit. We left Highport Marina about 8am and headed north. The morning air is cool, well really kind of cold as Doug poured on the fuel and made the 350 chevy motor hum as it pushed the 23 foot Falcon across the rippling bright blue water.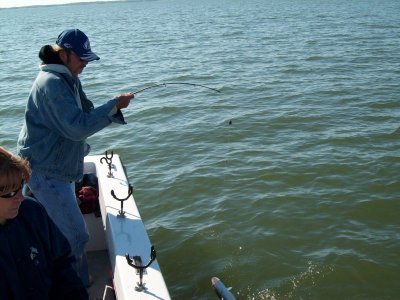 It didn't take Doug long to find a huge school of stripers and we readied our rods as he dropped the anchor we all grabbed at the shad and have the first hook in the water. Five rods in the water and BAM who got lucky and had their pole heading under the boat, yep you guessed it. Right off the bat yours truely landed a good looking Lake Texoma striper.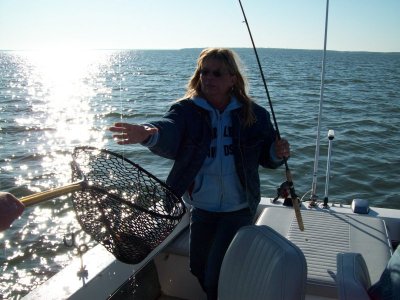 The action immediately got hot and heavy and in 50 minutes we had our limit.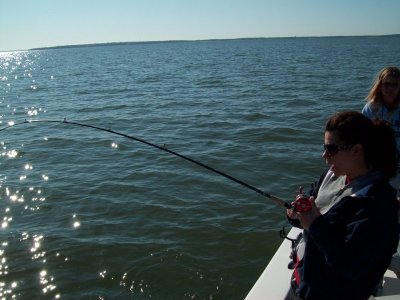 If you like hard and fast fishing action, now is the time to get out on Lake Texoma and get your rod wet. The stripers are hitting hard and taking the rod tips down very quick.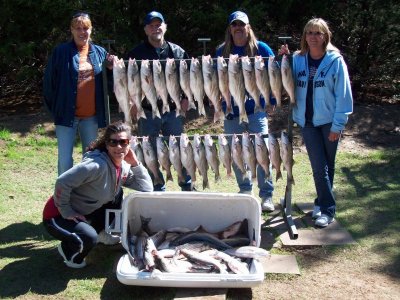 Shad is a little difficult to find but well worth the effort. Better yet book a trip with a professional guide and enjoy the day we had.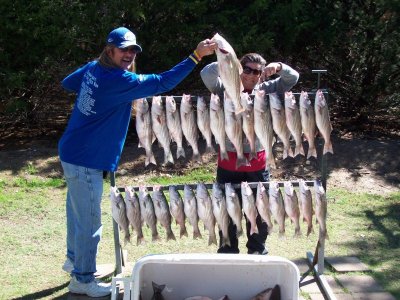 Just for the reocrd, yours truely caught the first, my wife Donita caught the most, Doug's wife Deana caught the biggest, although I still say mine was bigger, Charlie was the best deck hand Doug could have and Donnette won the honors for drowning the most bait.