Cooler water temperatures makes for
HOT Lake Texoma Striper Fishing
. Over the last few weeks we are seeing much larger stripers being caught. The official Lake Texoma
surface water temperature
is 52 degrees with an elevation of 616.3 feet. I'm mainly fishing west of Highport Marina. Some days we have seagulls to help locate fish, but my last couple of trips I haven't seen them working. That is where your electronics come in handy. You can find fish now just about anywhere using your electronics. I am fishing mainly on structures (ledges, creeks, humps, ditches, points) with
live bait
(Gizzard Shad) and mostly drifting. I have had a couple of great days of lure fishing on the really cold and overcast days, and these were the days we caught the best fish of the year. Bundle up and do some winter fishing on
Lake Texoma
, it will be worth it.
This is the time of year you should bring a bump board or tape neasure with you. We are catching a lot of stripers over 20 inches. The Lake Texoma limit for stripers is ten fish a day with only 2 of them being over 20 inches. It is very exciting catching these fish but take the time to measure your catch.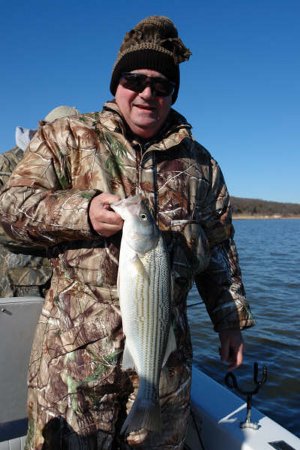 Read what out Customers have to say.
Just a note to tell you, despite the wind, we had a great trip. Your knowledge of the lake and fishing techniques, got us on the fish.
The guys and I had a great time and look forward to doing it again. Thanks for a great time, George Mumma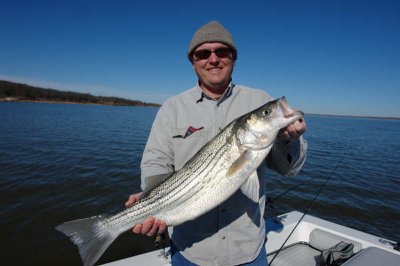 Dean, and I had a great time. We never knew fishing in the winter is the way to go. Much thanks, and tight lines! Robert Fugate.
Catch fish like a PRO
with
STRIPERMASTER