It took all I had to get up at 6am Saturday morning to go fishing. With as may layers of clothes on as I could and still be able to move, I met Jimmy Don, Charlie and Doug Keeter, owner of Striper Master Lake Texoma Striper Guide Service. As we motored out of Highport Marina I couldn't stop thinking, "What the Hell are you doing to yourself". But everyone else had the brave face on so far be it from me to be the odd man out and said " Yeah it ain't too bad".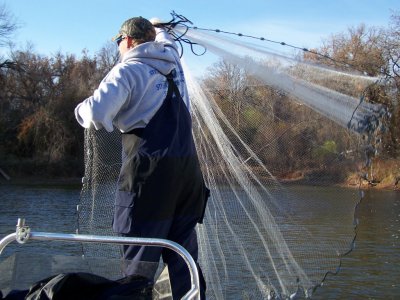 As we made it out past the breakwater it was obvious this was going to be a fun ride. The wind was only blowing what felt like 60 miles per hour but i'm sure it was more in the 25 mph range. As we plowed thru the 3-4 foot waves I pulled my coveralls over my right side to block the cold wet spray from soaking me. I would have had them on but I would have looked like Ralphie's little brother Randy in one of the best movies of all time, "A Christmas Story". We made it to a secluded cove and got bait and headed back out into the ocean, er I mean Lake Texoma and west past the 377 Bridge we went. By The Shepard Annex the water was mud red and the water was rough. We tried around that area with no luck. We headed back towards the bridge and had a great time fishing. The big fish didn't want to cooperate but the ones under 4 lbs were not so minded. We had a great time moving and catching a few, moving and catching a few, you get the picture. And guess who caught the biggest? hehe.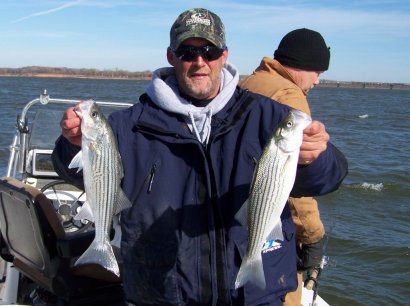 Don't let the cold weather hold you back. The fishing makes it all worthwhile. Ohh and bring something to keep ya dry on the way back in.