March 2. 2010: Putting the fishing shows behind me, I took an ole friend from my home town, out on a little seek and find fishing trip, since we finally had a pretty day. It was a lot of seek since I had not been out in some time, but finally nailed down one of my ole fishing holes, and let him see how good he was at bringing in the "big one". He needed a lot of practice since he fishes out of Greenbelt Lake, but he finally got the hang of it again, and brought in some nice ones. It looks like the Spring Break coming up, will find Lake Texoma ready for the kids, and I am glad since I fish 20 of them in a couple weeks. I am posting a few pictures of yesterday, asking that if you have a free day or two, give me a hollar and lets go fishing , not hunting.
March 4. 2010: same report, biggest this time to 12 lbs. Great fish, Great Day.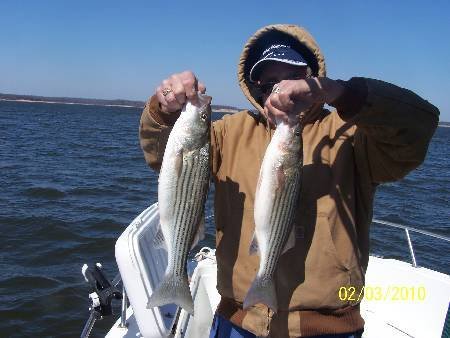 For more information visit Jerry Dorsey's Cross Creek Guide Service web site.
~~~~~~~~~~~~~~~~~~~~~~~~~~~~~~~~~~~~~~