The lake level is back down to the 624 foot mark and this level is dropping fast with the Corps of Engineers discharging around 21,00 cubic feet of water per second. The flood control pool is at the 25.95% full. The lake is dropping almost 6 inches a day. The first 10 – 14 days of the month the COE were discharging around 10,000-12,000 cfs. and the fishing was great. As the water level began dropping faster the fishing has gone from great to good to fair. By mid September when we get back to a normal lake level the fishing should get back to normal which is usually very good for the this time of year. As for fishing this first part of August it has been good one day and tough the next.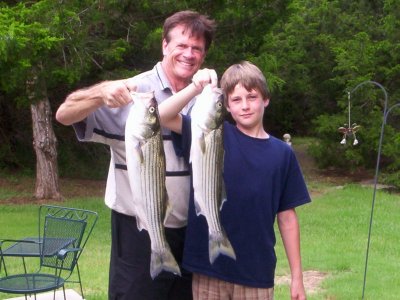 Right now I think it's a matter of being in the right place at the right time. Alot of the fish are chasing bait to the surface. the problem is getting close enough to them without spooking them and scaring them off. The stripped bass of Lake Texoma are really spooked by the sound of boat motors this time of year. If you can get upwind and kill your motor and drift into the schools and be patient as they more than likely will resurface and then the fun begins.
I'm fishing strictly artificial lures at this time as the fish are really moving around alot. Match your lure to the size of the bait, 2-3" threadfin shad, the stripers are feeding on.
I'm using 1/2 ounce Cojo Minnows with three inch body. The 1/2 ounce Sassy Shad with a 3 inch body in the Glow or White colors also is working well. The trick to using these baits is to retrieve it fast as soon as it hits the surface of the water. Reel it in keeping the lure right on the surface of the water.
The fish I've targeted this past couple of weeks have been on the flats in 15-30 feet of water form the Mac Flats area to Washita Flats and as far south as West Burns Run.
There are a few Marinas that are open and allowing boat launching. Do your homework and make a few calls and you'll find a place to launch your boat.
If you have never been striper fishing when they are on the surface, busting and chasing shad, it is an awesome sight that makes even the most experienced anglers hearts pound uncontrollably.
If you have any questions or would like to talk fishing email me at stripermaster@texoma.net
I would like to hear from you and will get back with you as soon as I can.
Catch fish like a PRO
with
STRIPERMASTER