With the cooler the Lake Texoma water temperature has been steadily dropping. These conditions have perked the stripers up and made for easy pickings. Out of the past two weeks I have fished all but one day and have had great results each day. We have seen some good looking limits of Lake Texoma stripers on these trips.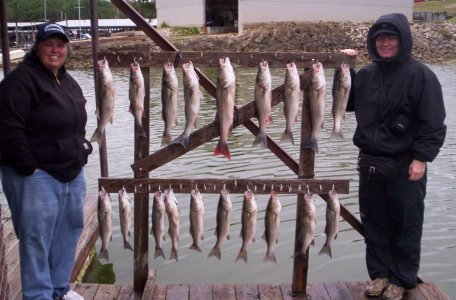 I have been starting most morning off fishing topwater, using pencil poppers for an hour or so. Once this dies down or isn't working I head back to the bait tank and start using live bait, mainly a mix of small thread fin and gizzard shad. This is one time out of the year that the stripers don't seem to care which shad they attack. I have fished the past couple of weeks north of the Highport Marina area. Even though there are plenty of hungry stripers to the west and behind the islands, I prefer the big body of the lake during this time of the year. The seagulls are moving in and this also helps in finding the schooling stripers. but I have been catching had better sized stripers off the shallow points and banks. .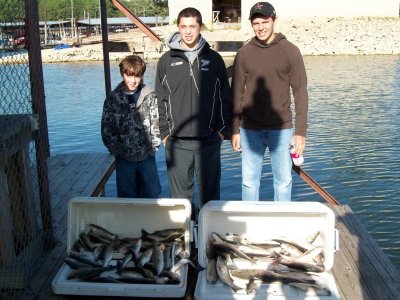 With this cooler weather and shorter days as winter nears, the Lake Texoma water temperature is steadily dropping. With this cooling, the top-water action should continue thru mid November and this is the perfect time to hook up with a monster Lake Texoma striper. Don't let the cloud covered drizzly days discourage you from coming out as these some of the best days for HOT Lake Texoma striper fishing.
Catch fish like a PRO
with
STRIPERMASTER
~~~~~~~~~~~~~~~~~~~~~~~~~~~~~~