During the month of May and during this first part of June, we have had some fantastic striper fishing on Lake Texoma. The lake water is off color with surface water temperature of 69 degrees with an elevation of 622.34 feet above sea level and receding. Baitfish is once again along the banks spawning. We are using live bait, Threadfin Shad, and fishing on anchor in 45-60 feet of water.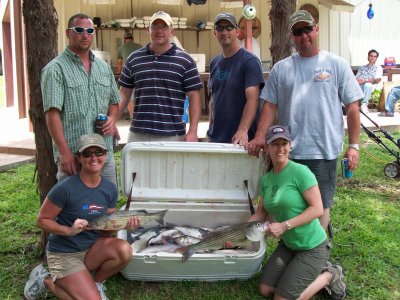 Once you get anchored down and set up with bait in the water the action comes fast and furious almost immediately. Once they find your bait, you can catch them as fast as you can get them unhooked, get bait back on your hook and you line back down in the water. We are also starting to see larger fish in the 11-15 pound range much more frequently. The Lake Texoma stripers are in a feeding mood and I don't think it matters what time of day you go fishing for them. I have had charters going out at 7 am, 10 am, 1 pm and as late as 7pm and the stripers have been in the feeding mood constantly throughout the day. Now is also one of the best time to take your kids fishing. The weather is fairly mild and fishing is great.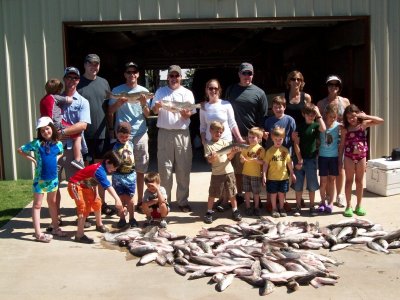 Lake Texoma striper fishing is at it's best. It is a great fun get away for all ages. So come on out to beautiful Lake Texoma and enjoy the thrill of this spring's striper fishing. You will not find a much better time than right now.
Be sure to check all your equipment before you leave home. Check your batteries, make sure your horn is working, get a loud whistle, check your fire extinguisher and be sure your life jackets are in good shape and very easily accessible. Remember safety is the number one objective while you are out on Lake Texoma. Keep an eye out for obstructions in the water (trees, logs, etc) while underway. Be courteous to the other fishermen on the lake and have a fun time on the lake.
Catch fish like a PRO
with
STRIPERMASTER