The multiple weather fronts that came through the past week with the high winds brought us a drop in water temperature and made for some hard fishing. The last few days the weather has turned warmer, more sunshine and warming water temperatures. The water is still quite muddy from the past heavy rains. The gates at Denison Dam have been closed a couple of days now. We should see a clearing of he water and a marked rise in water temperature within the next week.
I'm still drift fishing in 15-35 feet of water using 3/4 ounce barrel weight. 1/0 hook with 18-24 inches of fluorocarbon leader. I'm working the ledges and flats that have quick access for the fish to the deeper water.
A lot of the female and male fish caught this past week have finished their spawn. This is definitely a good sign. Along with the end of the spawn, rising air and water temperature, look forward to some Fast and Furious fishing in only a matter of days.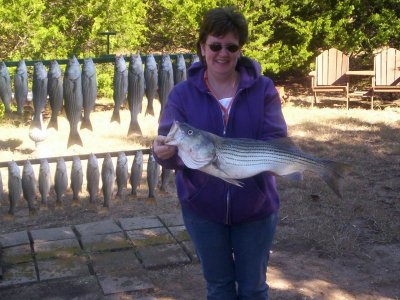 GOOD FISHING.
Catch fish like a PRO
with
STRIPERMASTER