Although March was our typical early spring fishing with both good and not so good days, we are definately now seeing an improvement in our striper fishing on Lake Texoma as we head into mid April. Lake Texoma surface water temperature is 58 degrees with an elevation of 615.19. Live bait is working well in the shallow flats 10-25 feet of water while drifting. We have also caught some nice limits of stripers on anchor in water ranging from 40-50 feet deep. These past few days it has been steady, just finding and picking at them. As Lake Texoma water temperature continues to rise we will start to have some of the super fast striper action.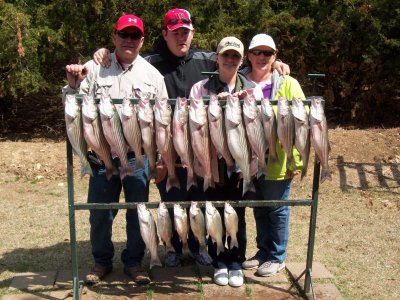 Lake Texoma striper should finish their spawn in the next 10-14 days. They will then move into huge schools with nothing but feeding on their minds. Now is the time to book your spring striper fishing trips. the last two weeks of April into the month of May is the best time for some super hot Lake Texoma striper fishing action.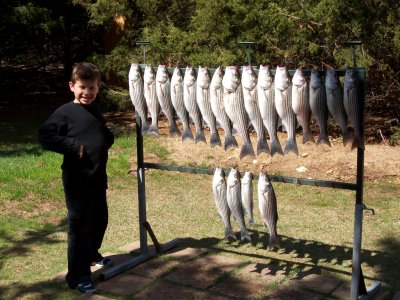 For those of you who haven't ventured out in your boat this season be courteous to the other fishermen on the lake, be sure to check all your equipment. Check your batteries, make sure your horn is working, get a loud whistle, check your fire extinguisher and be sure your life jackets are in good shape and very easily accessible. We have already had a fatality accident this year so please remember safety is the number one objective while you are out on Lake Texoma, catching some whopper stripers is the gravy of being in the paradise we call Lake Texoma.
Catch fish like a PRO
with
STRIPERMASTER